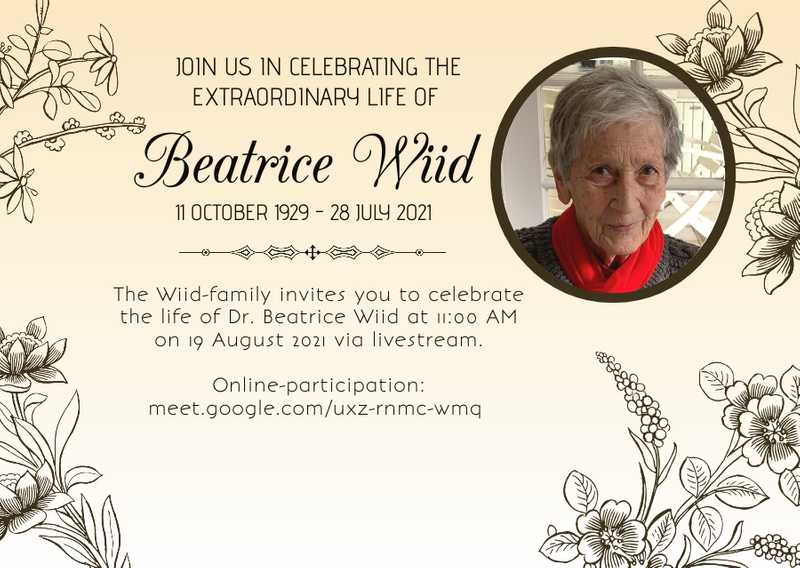 PRESS RELEASE
August 2021
In memory of Dr Beatrice Wiid
When someone passes away, we think back on the lessons that could be drawn from the life that person lived and the examples they set. Beatrice Wiid is an example that one person can indeed make a massive difference. Her passing leaves a void that will never be filled.
Dr Wiid had a long and illustrious career as lecturer and senior lecturer, and served her students with distinction over almost four decades. Her retirement in 1990 did however not mean the end of the road. If possible, she became even more actively involved in the pursuit of the ideals of social justice, a motivation that drove every part of her life and her career as academic.
Beatrice did not just 'talk the talk'. She 'walked the walk' and I consider her to be the personification of what a social justice champion should aim to be. Instead of waiting for 'someone else' to do something, to build bridges and improve the lives of people in SA, she rolled up her sleeves and got her hands dirty.
I think we will all agree that she was at her happiest when she was directly involved in helping communities, collaborating with other likeminded people, with one single goal in mind – making a difference.
I was honoured when she said yes to being nominated as one of the 17 Social Justice Champions by my Office. She unreservedly embraced the ideals of the Social Justice M-Plan, and supported the #action4Inclusion initiative we launched.
For this, I will remain eternally grateful.
I am sad to say goodbye to Dr Wiid but I also want to thank her for her service to humanity and her relentless contribution to honouring the constitutional commitment to transform our society to one that is based on social justice and fundamental human rights.
Beatrice Wiid showed us the path we need to walk. And we will honour her legacy by continuing this important journey.
Rest well my friend.
/ends
Dr Beatrice Wiid passed away on July 28th, 2021. The remarks were prepared for delivery by Professor Thuli Madonsela (Law Trust Chair in Social Justice at Stellenbosch University) at a memorial service on Thursday August 19th hosted by the Wiid family.
Issued by HWB Communications Pty Ltd on behalf of the Law Trust Chair in Social Justice, at Stellenbosch University. Media enquiries can be directed to Martin Slabbert on martin@hwb.co.za or 079 500 1503.
---
DOWNLOAD: Tribute for a Phenomenal Women - Dr Beatrice Wiid →