Please note: video recordings of the proceedings are now available below.
MEDIA RELEASE
Gender-based violence on campuses under the spotlight
A discussion about gender-based violence (GBV) in institutions of higher learning initiated by Prof. Thuli Madonsela, Law Trust Chair in Social Justice at Stellenbosch University, aims to contribute to the development of policy guidelines that will assist tertiary institutions to deal with the scourge of GBV.
Over the past few years, several incidents of GBV on campuses in South Africa made national headlines, despite a transformative constitution and legislation that protect human rights and prohibits human rights abuses. In addition, South Africa has ratified and adopted regional and international conventions and protocols focused on the eradication of GBV. Still, these measures seem to have little impact on the problem.
The broad objective of the Expert Roundtable on GBV in institutions of higher learning that will be held on Thursday 25 August in Stellenbosch and online, is to explore the historical and current consequences of discourse on GBV on campuses while evaluating the social and developmental impacts of GBV on victims, communities, society, and families. Another objective is to explore and understand the nature and intersectional dynamics of GBV through a social justice lens anchored in human rights.
Prof. Madonsela says there is a need in South Africa and globally to better contextualize GBV in institutions of higher learning. "I think there is a poor understanding of how GBV manifests in institutions of higher learning, the intersectional identities of victims and offenders, its prevalence patterns, root causes, and the conditions that encourage it. With this roundtable discussion we hope to encourage tertiary institutions to design and adopt policies that are preventative rather than reactive in nature and ensure adequate input by various stakeholders, including staff, students, representative bodies, researchers, and the wider academic community," Prof. Madonsela explains.
She says the Expert Roundtable on GBV will also explore the design of recovery facilities and counselling programmes with a specific focus on rehabilitation and accountability. "We will seek to identify the unique manifestations, causes, and influencing factors of GBV on campuses. We'll explore the shortfalls of reporting structures and try to identify reasons for the under-reporting of GBV in institutions of higher learning." Experts from a variety of disciplines and backgrounds have been invited to contribute to the Expert Roundtable on GBV. The programme director of the event is Karyn Maughan, a News24 legal journalist, documentary producer, and bestselling author.
Feminist writer Joy Watson will be a panellist in one of the sessions at the roundtable. She says talking about GBV in institutions of higher learning is critical to understanding universities as sites of violence so that we can adequately prevent and respond to it. "I think we should locate discussions about GBV in the context of the National Strategic Plan on GBV where there seem to be bottlenecks in the implementation of the NSP. I hope this discussion will contribute to the ongoing conversation that inspires action in this regard," Watson says.
Counselling psychologist and mediator Jenna Bayer hopes the discussion will help to educate the public on the debilitating psychological consequences of gender-based violence which include depression and post-traumatic stress disorder. "The experts bring a variety of skills and expertise to the table, so I hope we come up with holistic solutions to the issue of gender-based violence at tertiary institutions," says Bayer.
The Expert Roundtable on Gender-Based Violence in Institutions of Higher Learning is a hybrid event with in-person attendance at the Stellenbosch Institute for Advanced Study (STIAS) as well as online attendance through Zoom - https://bit.ly/3SRv6tu.
Issued by the office of the Law Trust Chair in Social Justice, Stellenbosch University. Enquiries: Marna Lourens; email: mlourens@sun.ac.za; Tel: +27 (0)21 808 3182
See more details about the event.
See event posters and speaker details below. You can click an image to download a high-res version.
Dr Nthabiseng Moleko
Deputy Chairperson, Commission for Gender Equality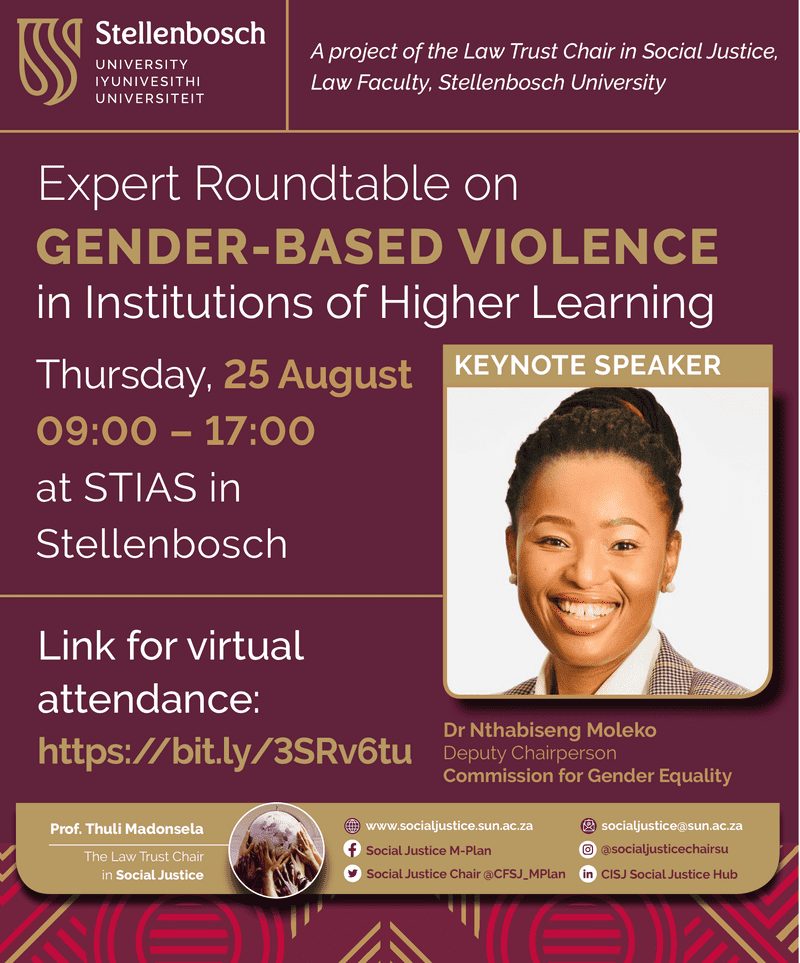 Karyn Maughan
News24 legal journalist, documentary producer and bestselling author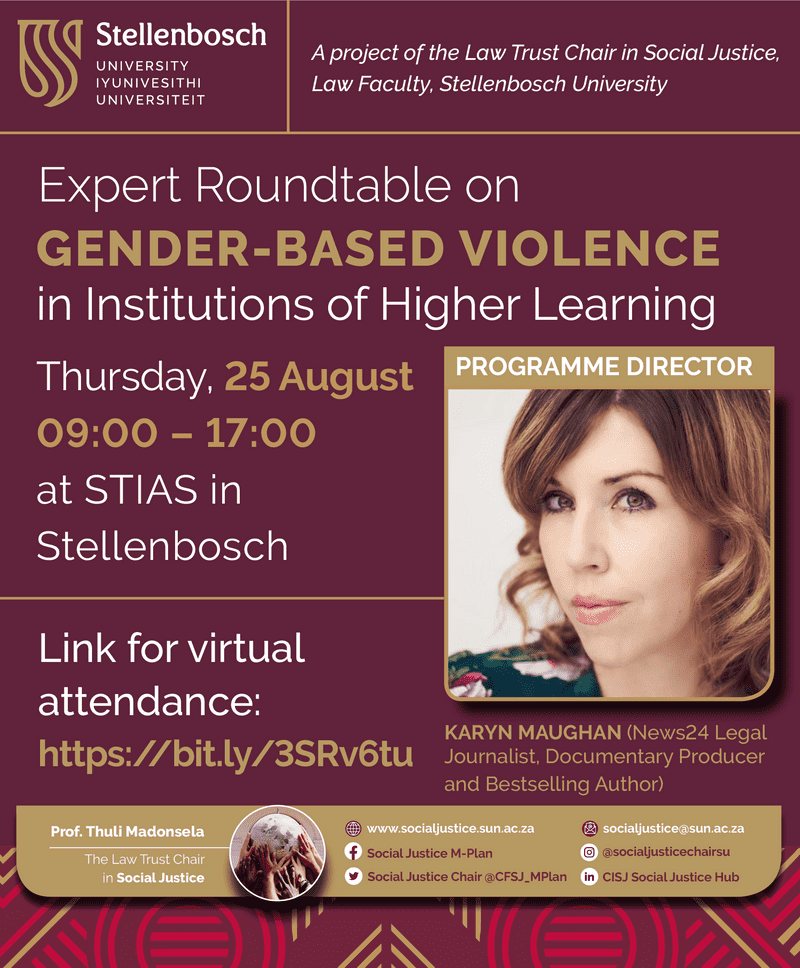 Prof Thuli Madonsela
Law Trust Chair in Social Justice, Stellenbosch University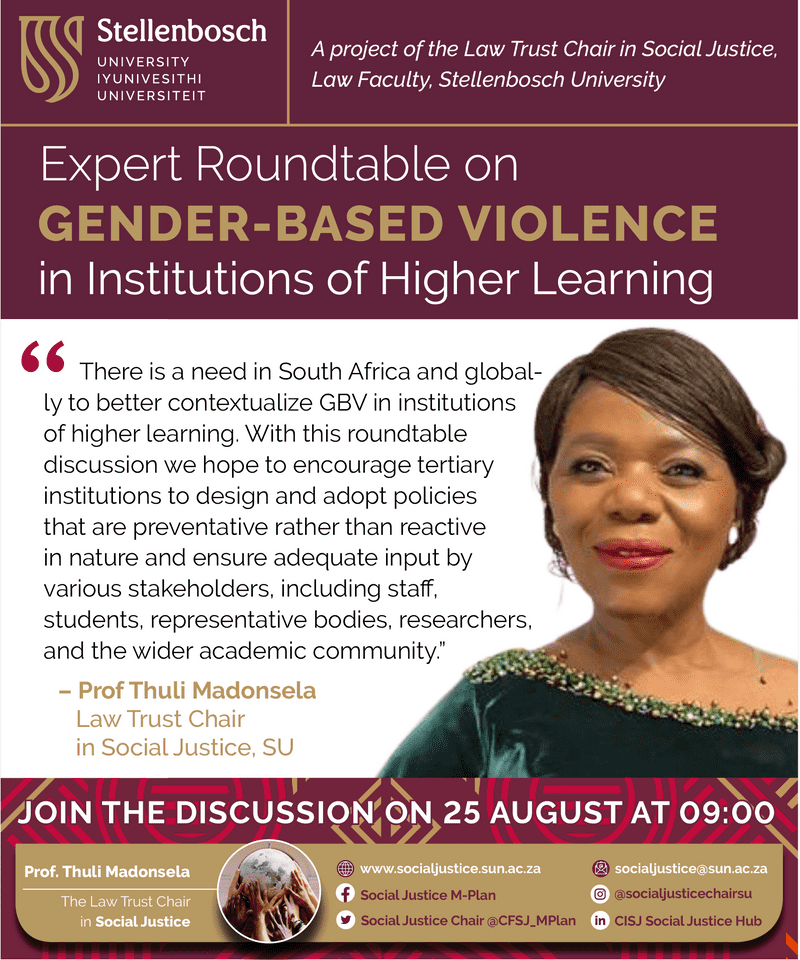 Jenna Bayer
Counselling Psychologist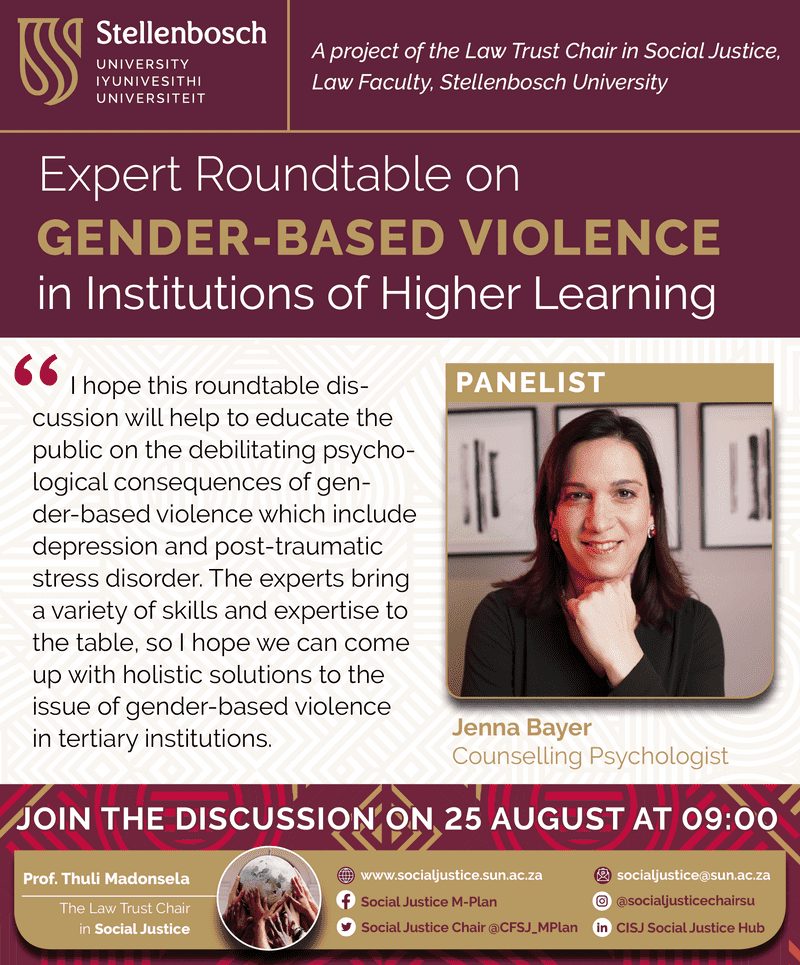 Lebogang Motau
Founder and CEO of Free World Initiative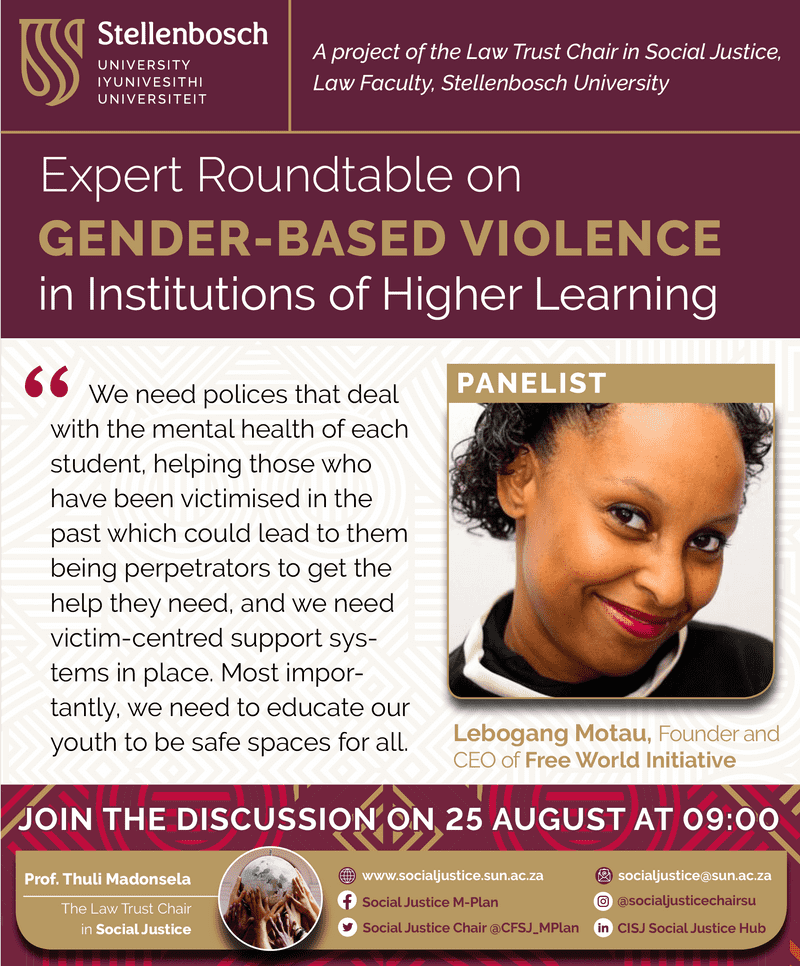 Fanele Ndebele
Centre for Student Leadership, Experiential Education and Citizenship, Stellenbosch University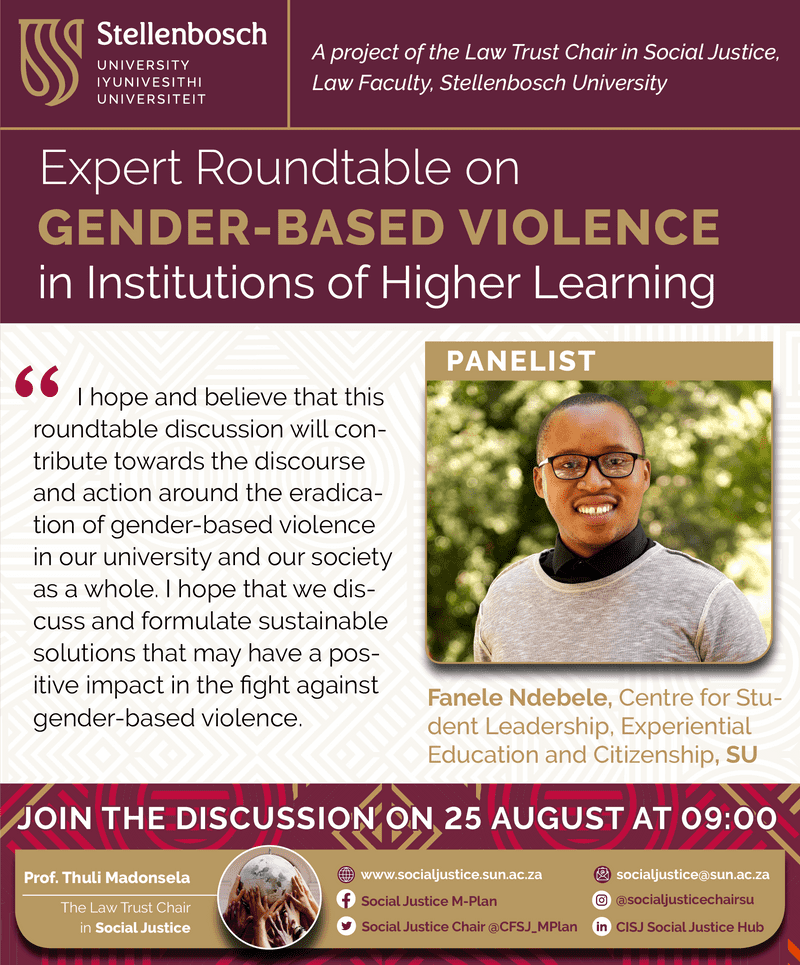 Dr Jill Ryan
Coordinator for gender non-violence at the Equality Unit, Stellenbosch University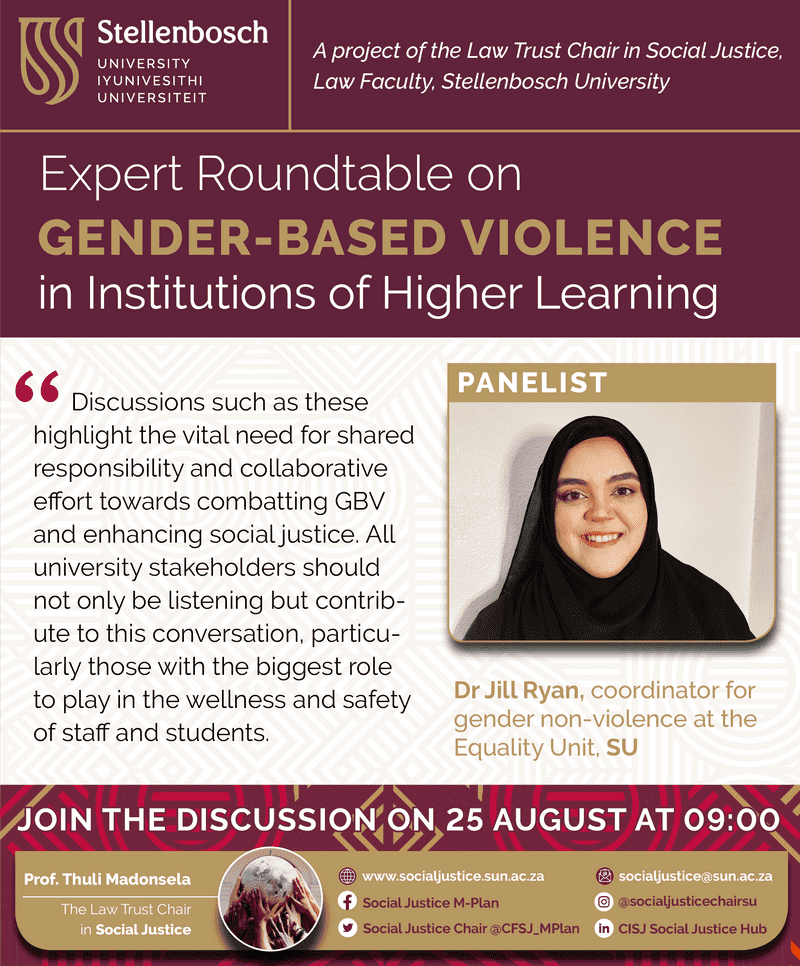 Joy Watson
Feminist writer and researcher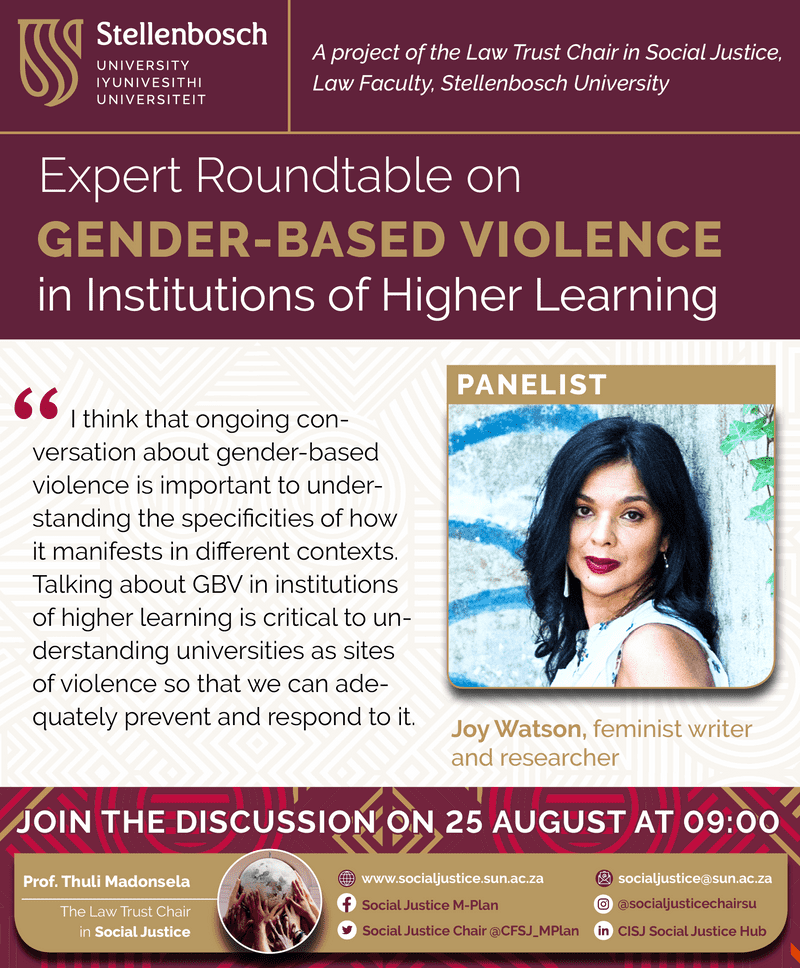 ---
Watch recordings of the roundtable
The full day's proceedings are available below in five parts.