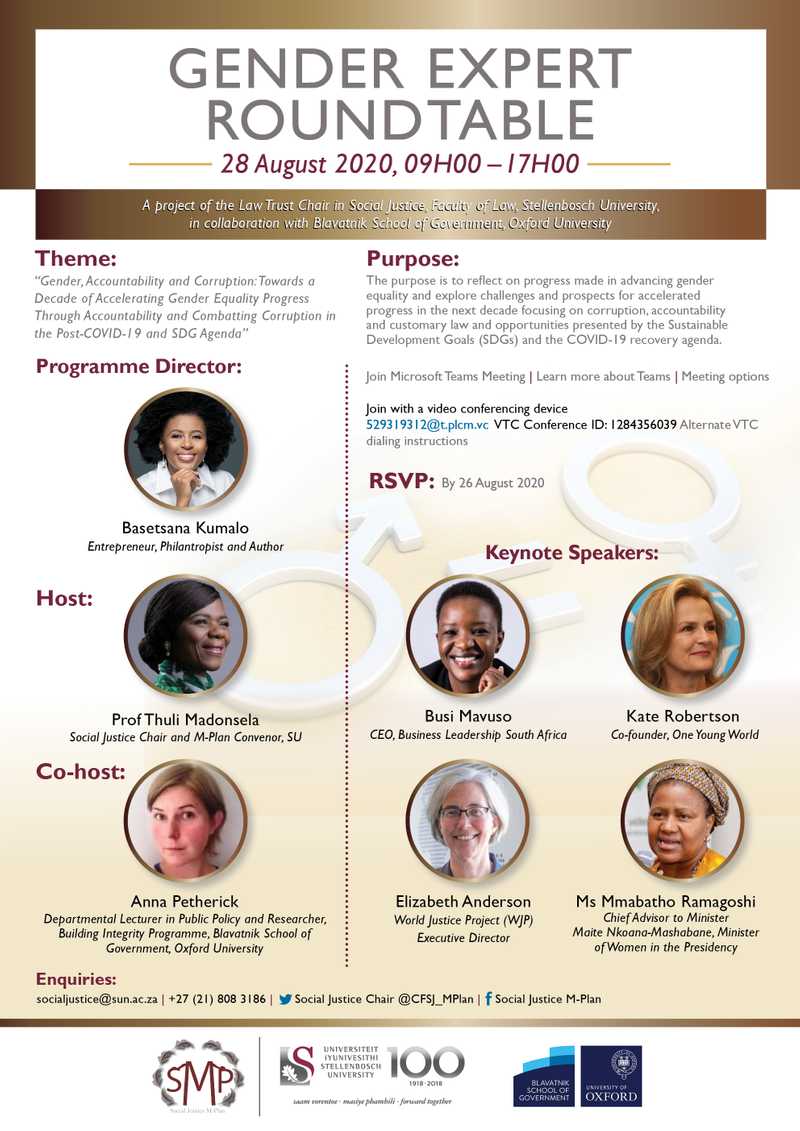 Event details
Topic: Gender, Accountability and Corruption: Towards a Decade of Accelerating Gender Equality Progress Through Accountability and Combatting Corruption in the Post-COVID-19 and SDG Agenda
Date: 28 August 2020, 09:00-17:00
Venue: The virtual dialogue will be conducted via Microsoft Teams. Join here: https://bit.ly/3aRGzUe
Download the event programme →
A project of the Law Trust Chair in Social Justice, Faculty of Law, Stellenbosch University, in collaboration with Blavatnik School of Government, Oxford University.
Purpose:
The purpose is to reflect on progress made in advancing gender equality and explore challenges and prospects for accelerated progress in the next decade focusing on corruption, accountability and customary law and oppor- tunities presented by the Sustainable Development Goals (SDGs) and the COVID-19 recovery agenda.
Objectives:
Assess the impact of the Constitution on women's human rights, particularly women living under customary law and those impacted by gender-based violence (GBV) and poverty.
Consider the impact of corruption on advancing gender equality, particularly in the face of COVID-19 state procurement and social and economic relief delivery.
Explore analytical tools for aligning policy, legislative, regulatory, and jurisprudential interventions with international, including SDG, constitutional and legislative social justice commitments.
Develop and adopt a policy brief on accelerating the advancement of gender equality and ensuring that no woman or girl is left behind in the next decade, which should be the Social Justice Decade.