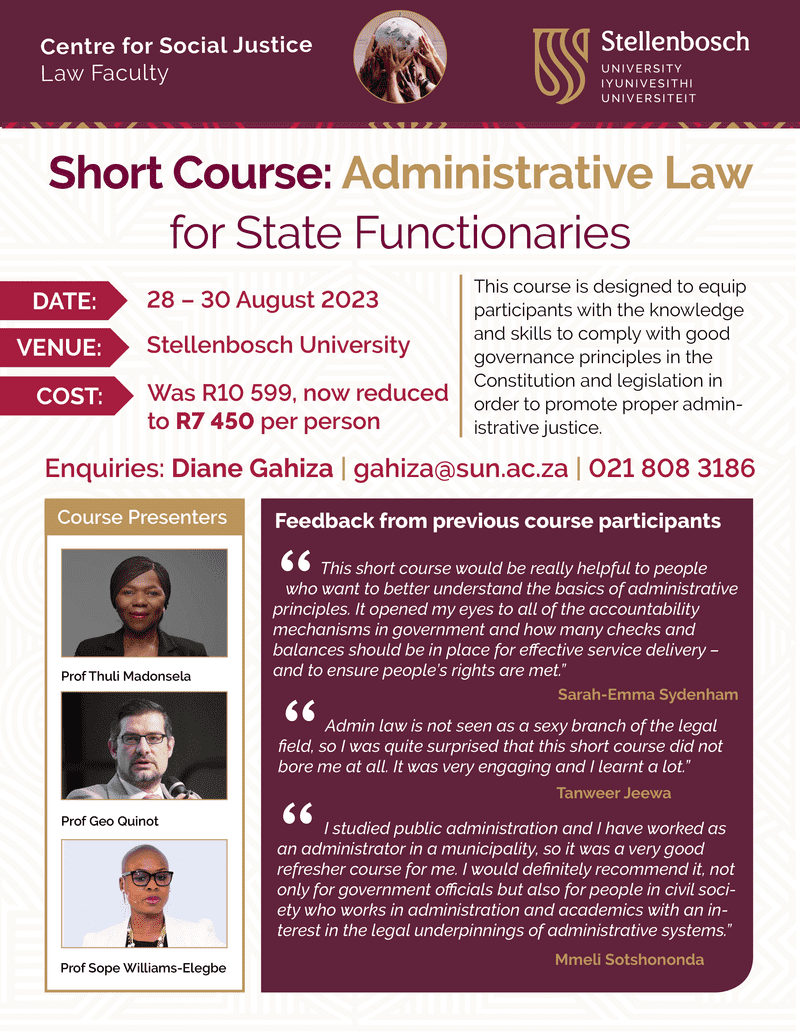 Event details
Presenters: Prof Thuli Madonsela, Prof Sope Williams-Elegbe, Prof Geo Quinot
Dates: 28-30 August 2023
Register now: http://bit.ly/adminlawSU
Cost: Was R10 599, now reduced to R7 450 per person
Administrative Law for State Functionaries is a three-day blended short course, offering participants an opportunity to understand administrative-law considerations that courts expect them and their principals to comply with and help them gain administrative-law insights from court jurisprudence, Public Protector and Auditor General reports with a view to minimising the possibility of having their decisions or those of principals they advise successfully reviewed by courts and administrative oversight bodies.
The short course will analyse a range of case studies in the typical areas within which public decision-makers function and illustrate what the law requires in each instance. The training will develop participants' competence in identifying the relevant administrative-law issues that may emerge in typical areas of public administration, how to address those issues, how a court or other oversight structure such as the Public Protector or Auditor General, may assess such conduct and how to design approaches to decision-making that will manage the legal risk in such instances.
The programme also provides basic leadership insights, including the understanding of lawyering as leadership, further aimed at improving good governance and minimising unproduc- tive encounters with oversight bodies or personnel that leads to case hardening and related adverse outcomes.
Contact details for any enquiries:
Ms Diane Gahiza Project Coordinator: Law Faculty Trust Chair in Social Justice Email: gahiza@sun.ac.za | Tel: 021 808 3186
---